What We Do
FERC Administrative Law Judges (ALJs) resolve contested cases as directed by the Commission, either by serving as a Presiding Judge, conducting a hearing, developing a record, rendering an initial decision, or by serving as a Settlement Judge and facilitating a negotiated resolution by settlement.
ALJs perform various other Alternative Dispute Resolution (ADR) procedures as directed by the Commission, including mediation, arbitration, and facilitation.
Some matters before the Commission are set for hearing before Administrative Law Judges (ALJs). The ALJ will issue an Initial Decision and the Commission will issue a final order for the proceeding. Appeals of Commission orders and regulations are heard in Federal Courts. FERC also facilitates settlements as an alternative to litigation.
 
Who to Contact:
Legal Matters:
Jeremy Hessler, Supervisory Attorney
Jeremy.Hessler@ferc.gov
Telephone: 202-502-8655
Administrative Matters:
Sharli Silva, Managing Attorney
Sharli.Silva@ferc.gov
Telephone: 202-502-8719
Motions Directed to The Chief Judge
All motions directed to the attention of the Chief Judge should be sent to the following people:
Chief Judge Carmen A. Cintron
Carmen.Cintron@ferc.gov
Jeremy Hessler
Jeremy.Hessler@ferc.gov
Sharli Silva
Sharli.Silva@ferc.gov 
Katherine Rogers
Katherine.Rogers@ferc.gov   
Directory of Judges
Chief Administrative Law Judge
Carmen A. Cintron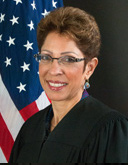 About
Judge Carmen A. Cintron was appointed to the FERC in December 1999. Prior to joining the FERC Judge Cintron was Hearing Office Chief of the Atlanta North Office of Hearings and Appeals, Social Security Administration. As Hearing Office Chief, Judge Cintron was the chief management official responsible for the operations of a hearing office comprised of nine Administrative Law Judges, two Senior Administrative Law Judges and a support staff of fifty employees (attorneys, paralegals and technicians). She became an Administrative Law Judge in April 1994 appointed to the San Jose, California Hearing Office with the Social Security Administration.

Judge Cintron was an attorney at the Federal Communications Commission (FCC) for 14 years. For 12 of those years she served in the FCC's Common Carrier Bureau. Judge Cintron also worked as a Trial Attorney for the Puerto Rico Justice Department in the Federal Litigation Division. In addition, she worked in the Puerto Rico House of Representatives as Legal Advisor to the Judiciary Committee on Civil Law.

Judge Cintron has a bachelor's degree in business administration, magna cum laude and a Juris Doctor degree, cum laude, from the University of Puerto Rico. She was the recipient of the Resumil Award for the highest cumulative average in criminal law. While in law school, she was an intern in the U.S. Attorney's office in San Juan, Puerto Rico. She also worked in the Clerk's office in the U.S. Federal District Court for Puerto Rico implementing the Speedy Trial Act for both the Puerto Rico and Saint Thomas Federal District Courts.

Judge Cintron is a member of the bars of the District of Columbia and Puerto Rico, and is admitted to practice before the U.S. District Court for Puerto Rico, the U.S. Court of Appeals for the First Circuit, the U.S. Ct. of Appeals for D.C. and the U.S. Supreme Court. In April 2014, she was appointed to serve a two-year term as a volunteer arbitrator for the DC Bar Attorney Client Arbitration Board Fee Arbitration Service. She served two terms as a Hearing Committee member and subsequently as a Board member from 2009-2012 of the Board on Professional Responsibility of the District of Columbia Court of Appeals. She served as the Mount Vernon representative to the Fairfax County Commission on Organ and Tissue Donation and Transplantation. Previously she served as an officer of the D.C. Hispanic Bar Association.
 
Contact Information
Telephone: 202-502-8500
Suite: 11F-1
Name
Email Address
Telephone
Suite
Sharli Silva,
Managing Attorney
sharli.silva@ferc.gov
202-502-8719
11F-5
Jeremy Hessler,
Supervisory Attorney Advisor
Jeremy.hessler@ferc.gov
202-502-8655
11F-7
Office Fax Number
 
202-219-3289
 
Administrative Law Judges
Energy Industry Analysts
| Name | Telephone |
| --- | --- |
| Matthew O. Murray | 202-502-8500 |
| Olubode Sanni | 202-502-8500 |
| Michael Bullard | 202-502-8500 |
Legal Internships and ALJ Clerkships in OALJ
Read more about Hiring Opportunities in the Office of Administrative Law Judges
 
List of Available Settlement Judges
To view a list of available settlement judges please visit the Administrative Litigation page and click the learn more tab under Settlements.
Quick Links
---
Contact Information
---
Chief Administrative Law Judge

Supervisory Attorney Advisor

Office of Administrative Law Judges (OALJ)

Federal Energy Regulatory Commission

888 First Street, NE
Washington, DC 20426
United States